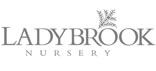 Ladybrook Nursery supplies a wide range of container-grown ornamental specimen trees for a variety of landscaping purposes.
All ornamental trees are graded by their girth in centimetres, not their height.
Key features
Most offer flowers and / or colour
Delivered bareroot during winter and spring (Nov-early April).
Large specimens require support with stakes and tree ties
Biodegradable mulch mat is recommended
Based in the north of England, Ladybrook offers technical advice, plant sourcing and nationwide delivery. Photographs of stock can be sent by post or email on request.
More trees by Ladybrook Nursery
View all
Also by Ladybrook Nursery
More products on EXTERNAL WORKS
Ladybrook Nursery address and contact details
Ladybrook Nursery
Lytham Drive
off Seal Road
Bramhall
Stockport
SK7 2LD
Tel: 0161 440 8060
View on map