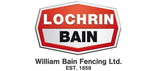 09 April 2018
Lochrin Bain is a name synonymous in the security fencing industry, with a history of manufacturing in the UK dating back to 1859 with its design of the original palisade fence.
Its flagship products, the Combi™ and Defender™, now secure critical sites nationwide.
PLURA Innovations designs and manufactures composite and plastics products for infrastructure and provides a range of GRP products for utility companies, road and rail operators, and network builders.
With PLURA offering GRP fencing solutions into similar markets as Lochrin Bain's high security fencing systems it was no surprise that the two would eventually collaborate. As one of a handful of UK manufacturers of GRP fencing PLURA had initially looked at the traditional palisade fences used by both steel and GRP manufacturers across the world. Not happy with the flaws in this dated design the management team took up the challenge of working on a solution that would put them at the forefront of the GRP fencing market.
The problem they found with traditional palisade was the ease with which the front fixed verticals pales could be removed. This attack method creating pendulum entry can take as little as 10 seconds with basic hand tools and is one of the reasons many security professionals now consider standard palisade as a general purpose demarcation fence rather than a security product.
While looking for the fix to this problem PLURA came across Lochrin Bain's Combi™ Palisade design. With vertical pales passing through slots in the rails prior to fixing, would-be attackers could no longer remove uprights gaining entry to sites.
The solution: POLYsade™ is a GRP fence which takes the security principles of its steel counterpart while utilising all the benefits of a traditional GRP product: non-conductive, non-corrosive, lightweight and very long lasting.
Related entries
Lochrin POLYsade™ high-security fencing is manufactured from glass fibre re-inforced polyester (GFRP). The system utilises Lochrin Bain's Combi™ design allowing all vertical pales to pass through the horizontal rails prior to being fixed in place by security fasteners to provide resistance against leverage or removal: quick and easy installation...

Product, 10 April 2018
Also by Lochrin Bain
Lochrin Bain address and contact details
Lochrin Bain Limited (Prev William Bain Ltd)
Lochrin Works
7 Limekilns Road
Blairlinn Industrial Estate
Cumbernauld
G67 2RN
Tel: 01236 457333
Fax: 01236 451166
View on map