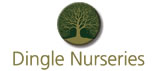 LTC Landscape Architecture were employed by Persimmon Homes to provide a full landscape consultancy service for a new development of 1200 homes on a brownfield site at Bromsgrove, Worcestershire.
LTC visited Dingle Nurseries to approve all the stock prior to planting. This included semi-mature trees, multi-stem trees, specimen shrubs, roses and large drifts of herbaceous perennials.
The planting is now established and provides a wonderful public space for the new residents of this development.
Related entries
Dingle Nurseries has over 130 acres dedicated to open-ground production, and supplies the amenity and wholesale nursery markets. 50,000 standard trees 70,000 feathered 3 million forest trees....

Product, 09 February 2018

Established in 1968, Dingle Nurseries extends to around 160 acres, growing a full range of high-quality plants for the amenity and wholesale nursery market. 18 acres dedicated to container-grown shrubs production, and supplies the amenity and wholesale nursery markets. Over 2 million potted shrubs are available. The company's shrubs and climbers...

Product, 09 February 2018
Also by Dingle Nurseries
Dingle Nurseries address and contact details
Dingle Nurseries Ltd
Frochas
Welshpool
SY21 9JD
Tel: 01938 552587
Fax: 01938 554734
View on map