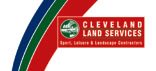 Engineering disciplines
Civil engineering

Sector experience
Civic
Industrial
Landscape
Small works

Engineering services
Drainage
Hard landscaping
Surfacing

Project experience
Car parks
Foundations
Roads

Professional services
Consultancy
Design
Groundwork
Installation
Site survey

Types of contract
Design and build

Operational area (UK)
East Midlands
East of England
London
North East England
North West England
Northern Ireland
Scotland
South East England
South West England
Wales
West Midlands
Yorkshire and The Humber

Cleveland Land Services offers civil engineering work for a range of applications, from urban regeneration schemes to development sites and industrial complexes. The company also offers a complete design and build service to suit the individual requirements of each client.

Works can include asphalt base and wearing courses with specialised finishes, road construction, car park construction, footpath construction, sewer and drainage installations, foundation excavations, earthwork support, bulk earthworks, highway crossings for underground services, in-situ concrete and concrete shuttering works, kerb laying, street lighting, signage and furniture, and white lining.
Related entries
Cleveland Land Services Ltd

CLS designs and installs primary and secondary drainage systems to suit customer requirements. The company has invested in the most up-to-date drainage equipment, all of which is available for contract or hire. CLS drainage systems can be used during the construction and establishment of sports pitches. The company has completed projects for...

Service, 25 October 2017
Also by Cleveland Land Services Ltd
More services on EXTERNAL WORKS
Cleveland Land Services Ltd address and contact details
Cleveland Land Services (Guisborough) Ltd
Park Farm
Dunsdale
Guisborough
TS14 6RQ
Tel: 01642 488328
View on map