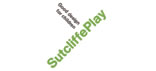 The Shop and Slide DZU025 is a modular play system.
Featuring continuous rubber crawl/shuffle decks that are only 150mm apart, this large unit allows inclusive play and is suitable for tiny toddlers.
Various play panels are arranged at or near ground level, including mirrors, a shop, an abacus, a puzzle and binoculars. These encourage imaginative role play.
More multiplay and modular play systems by Sutcliffe Play
View all
Also by Sutcliffe Play
Sutcliffe Play address and contact details
Sutcliffe Play Ltd
Waggon Lane
Upton
Pontefract
WF9 1JS
Tel: 01977 653200
Fax: 01977 653222
View on map