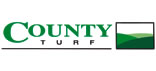 Suitability
Greens / wickets / courts
Sports pitches / racecourses

Turf type
Hybrid

Soil types
Sandy loam

Species
Perennial ryegrass
Smooth-stalked meadow grass

Support services
Contract growing
Delivery (own fleet)
Installation

Eclipse Stabilised Turf is a patented combination of natural grass growing in a stabilising mat that is exclusively grown by County Turf in the UK and for Europe under licence from the Motz Group.
The combination produces a natural turf solution that delivers the manageability, playability and flexibility demanded by world-class sporting venues.
This hybrid turf combines natural and synthetic fibres tufted into an open-weave backing, top-dressed with specified sand. The reinforcement of the artificial grass guarantees stability and an even playing surface immediately after installation.
Advantages
100% natural grass playing surface meets all governing body regulations.
Dramatically increased wear tolerance compared to conventional grass.
Horizontal stability, even on pure sand rootzones.
Decreased divoting, shearing and displacement damage.
Meets the aesthetic and athletic demands of today's sports pitch market.
Provides the flexibility to rapidly replace logos and change out-worn areas.
Immediate playability upon installation or rotation.
Increases frequency of play.
Natural look and feel.
Load bearing strength.
Supports usual maintenance methods.
Related entries
Leicester Tigers has become the first UK rugby club to install a County Turf grown Eclipse Stabilised Natural Turf pitch at its Welford Road ground, with great results. Eclipse Hybrid Turf is a patented combination of natural grass growing in a unique stabilising mat. The combination produces a natural turf solution that delivers the manageability, playability and flexibility demanded by today's...

News, 05 April 2017

Eclipse hybrid turf was used to replace the soil practice pitch at the 5 star Grove Hotel in Watford. The pitch is used by professional FA and NFL sports teams who stay and train at hotel. Eclipse provided flexibility to work with the existing pitch drainage and achieve the necessary improvements without complete reconstruction of the pitch profile...

Projects, 06 November 2017

The Motz Group have granted County Turf the UK and European license for Eclipse Reinforced Natural Turf, the playing surface of choice for the stadium market in Australasia for over ten years. This hybrid turf provides dramatically increased wear tolerance compared to conventional grass, reduced maintenance and increases frequency of play. It...

News, 27 January 2017
Also by County Turf
County Turf address and contact details
County Turf Ltd
Low Santon Farm
Appleby
Scunthorpe
DN15 0DF
Tel: 01724 855000
Fax: 01724 282777
View on map