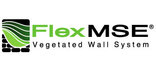 | | |
| --- | --- |
| Soil reinforcement | Geogrid based |
| Facing finishes | Vegetated |
| Maximum slope angle (deg.) | 85º (Near Vertical) - can be used to clad existing vertical structures |
| Maximum wall height (m) | Unlimited |
Flex MSE® Vegetated Wall System is a patented engineering solution for the construction of geomodular vegetated retaining walls and structures to control erosion.
The system uses MSE (Mechanically Stabilised Earth) principles along with geotextile technology.
Nonwoven Flex MSE® GTX bags are used in combination with patented 100% recycled interlocking plates to create strong, flexible block structures.
Flex MSE® does not require footing, rebar or specialised equipment to install.
The main USPs of Flex MSE® Vegetated Wall Systems include:
120-year design life with a 75-year warrantee
Installed in less than 2/3 of the time compared to traditional systems
Typically costs up to 60% compared to traditional systems
Can be installed from horizontal (living roofs) to near-vertical (85° retaining walls & slopes), and even used to clad vertical structures (living walls)
Can be filled with site-won materials
Can be vegetated with native plant species
Is currently the only man-made product to have received the designation, "Recommended for use on SSSIs" by the Environment Agency
BREEAM compatible
BBA Certification Stage 3 Attained - final certification pending
Typical applications include:
Retaining walls
Riverbank/coastline erosion repairs
Free-standing flood-walls
Landscaping features
Ditch lining & slope cladding
Culvert headwall repairs
Construction
Flex MSE® bags are filled with a mixture of sand & compost, and can be formed into near-vertical (85°) retaining walls, green landscaping structures and erosion resistant sidings to rivers and coast-lines.
The patented interlocking plates, made from 100% recycled materials, are placed between the layers of filled bags to add to the strength and stability of the structures constructed at a 1:1 ratio.
Flex MSE® is commonly used in conjunction with geogrid products & earth/soil anchors.
Vegetation options
Flex MSE® is suitable for hydroseeding, live staking, live planting and brush layering.
Flex MSE Units and proprietary fill media are water & root permeable.
Longevity
With an ASTM-rated design life of 120 years and a 75-year manufacturer's warranty, Flex MSE® structures can withstand almost unlimited differential settlement (up to 2m over 10lm stretch).
Support & distribution
Flex MSE® is manufactured in BC, Canada - Gravitas International are the Master Distributors & Technical Support for Flex MSE® in the UK & ROI. Gravitas are CPD-Accredited and are Business Partners with CIWEM.
Flex MSE® can be procured from dedicated sub-distributors throughout the UK & ROI.
Contact
Gravitas International - www.gravitasint.com; info@gravitasint.com; +44(0)161 980 1016
www.flexmse.com
Also by Gravitas International
Gravitas International address and contact details
Gravitas (International) Limited
219 Ashley Road
Hale
Altrincham
WA15 9SZ
Tel: 0161 980 1016
View on map