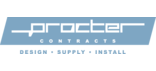 Features
Bespoke

Material
Steel

Suitability
Education
Housing
Industrial
Landscape
Leisure

Product accreditation
Secured by Design

Dimensions (h x w)
Height - 1.0, 1.2, 1.5, 1.8, 2.0, 2.4, 3.0m, panel width - 2750mm

Procter Roundex Railings use a round tubular infill, flat horizontal rails and RHS (Rolled Hollow Section) posts, sizes vary depending on height and usage.
The exact style of our Roundex Steel Railings can be designed as either traditional or more contemporary, so the mix of applications and building types of which these railings can be used for is considerable.
Available in heights from 450mm and 3.0m, as with all our railings, we hot dip galvanise them as standard but also offer a wide range of polyester powder coated finishes as well.
Related entries
More railings by Procter Contracts
View all
Also by Procter Contracts
More products on EXTERNAL WORKS
Procter Contracts address and contact details