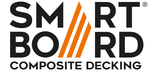 Material
Composite

Suitability
Patios

Features
Coloured
Grooved
Timber effect

Colours
Basttleship Grey; Chocolate Brown

Board dimensions (l x w x t)
20 x 138 x 3600mm

SmartBoard® is a reversible wood plastic composite decking with an appealing, tactile, brushed matt finish that creates a more natural surface than most composite alternatives.
Manufacture
SmartBoard® combines the benefits of wood plastic composite technology disguised to look like timber decking.
The solid structure and special formulation of SmartBoard® means it can be face-fixed with rows of colour-coded screws to retain the classic look more generally associated with timber decks.
Made from residues from engineered oak flooring combined with recycled hard plastic such as shampoo bottles also makes it kinder on the environment.
Features
Reversible - smooth on one side; grooved on the other
Easy to fit
Eco-friendly - 90% recycled materials
Long-lasting and low maintenance
Will not split or rot
25-year warranty
Colours
Battleship Grey gives a stylish and contemporary look
Chocolate Brown gives a vivid and distinct look
NB: only SmartBoard® approved colour-coded screws should be used during the fitting process.
Testing
SmartBoard® achieved a Pendulum test value of 54, where 36 or greater classifies it as "low risk for slip" by UK regulator, HSE.
More decking by Hoppings Softwood Products
View all
Also by Hoppings Softwood Products
More products on EXTERNAL WORKS
Hoppings Softwood Products address and contact details
Hoppings Softwood Products plc
The Woodyard
Epping Road
Epping
CM16 6TT
Tel: 01992 578877
Fax: 01992 561385
View on map - 2 addresses