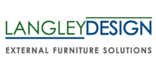 Suitability
Streets

Frame material
Timber / wood

Seat material
Timber / wood

Style
Contemporary

Fixings
Free standing
Root fixed
Surface / baseplate fixed

Seat length (mm)
1800 as standard

Seat depth (mm)
475

Seat height (mm)
450

Weight (kg)
105

The Sheldon Bench SBN321 is a curved benching option cut from 3 straight top slats. Normally a curved bench like this would have front to back angled slat segments to make up the curve, however this bench creates a similar curve without the need for lots of front to back slats, saving time and money on manufacturing and reducing the overall cost of the product.
The Sheldon Bench SBN321 is popular with customers due to its easy installation method, with no foundations necessary. This plinth mounted bench can be easily placed directly onto finished grade after any complicated paving or ground finishes have been completed. The benches are normally free standing due to the weight of the plinths providing stability and security but can be relocated if needed or even resin bonded to finished grade for a more permanent or fixed solution.
The Sheldon Bench SBN321 is 1800mm as standard but a single unit can be made to measure either smaller or larger with additional plinths added for support to the longer product types.
Related entries
This delightful multi-use landscape scheme design by FIRA and expertly installed by Paxman Landscapes using a range of Langley Design softwood timber products. The various areas of planting, activity and social spaces were equipped with benches, planters, cubes and litter bins to make the most of the sensory garden and also included a large canopy...

Projects, 22 January 2018

Langley Design was asked to provide a compact street furniture and cycle storage solution in a tight courtyard space, to match this high quality student accommodation project in Birmingham. Collaborating with the landscape architects, the company achieved the required amount of secure covered cycle parking needed to satisfy planning and link it with the...

Projects, 06 January 2017
More external seats and benches by Langley Design
View all
Also by Langley Design
More products on EXTERNAL WORKS
Langley Design address and contact details
Langley Design
Unit L (Gate 1)
Chelworth Industrial Estate
Cricklade
Swindon
SN6 6HE
Tel: 01793 759461
Fax: 01793 759642
View on map