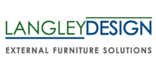 Suitability
Streets

Frame material
Timber / wood

Seat material
Timber / wood

Style
Contemporary

Fixings
Free standing
Root fixed
Surface / baseplate fixed

Seat length (mm)
2000

Seat depth (mm)
340

Seat height (mm)
450

Weight (kg)
80

The Sheldon Bench SBN317 is a 2000mm rustic style bench with a modern twist.
The hefty sections of timber that make up this sturdy bench are manufactured from Douglas Fir and the large section size shows off the stunning grain patterns of this natural timber.
The bench can be surface mounted with galvanised L Brackets or fixed below finished grade either bolted down to foundation below ground level or directly embedded at time of installation.
More external seats and benches by Langley Design
View all
Also by Langley Design
More products on EXTERNAL WORKS
Langley Design address and contact details
Langley Design
Unit L (Gate 1)
Chelworth Industrial Estate
Cricklade
Swindon
SN6 6HE
Tel: 01793 759461
Fax: 01793 759642
View on map